Ultra Gas At ESG India Summit: Enabling ESG At The Grassroots
Mr. Mukundan Iyer, CEO Ultra Gas & Energy, addressed the ESG India Summit in Mumbai on 31st May 2022.
Mr. Iyer emphasized our strong view that ESG needs to be enabled at the grassroots to ensure the widespread and meaningful success of the ESG movement.
He elaborated that in the context of Ultra Gas' business of catalyzing the adoption of Liquefied Natural Gas (LNG) by industries and heavy automotive across India, MSMEs comprise the grassroots. And it is only when the MSMEs truly switch to clean fuels like LNG that the emissions reduction goal of the country will truly be met.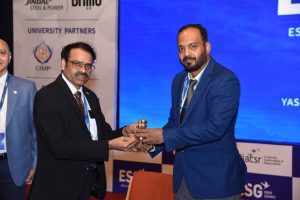 Mukundan spoke about the bespoke solutions that Ultra Gas has developed to promote the speedy deployment of LNG among the MSMEs including low Capex and doorstep delivery, anywhere in the country.
The audience comprising senior ESG professionals from the corporate world appreciated Ultra Gas' efforts to