Ultra Gas At Annual LNG Summit: LNG As A Force Multiplier
Ultra Gas recently participated in the 8th Annual LNG Summit 2022, in New Delhi, where Mr. Mukundan Iyer, CEO of Ultra Gas and Energy, shared his thoughts on the role and potential of LNG in India.
Mukundan spoke at length about LNG's role as a 'force multiplier' in India's quest to achieve a 15% natural gas share of the energy basket, especially given the steep growth rate required in natural gas consumption from this point onwards.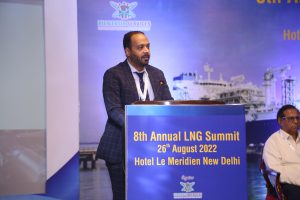 Positioning LNG as the 'future fuel', Mukundan discussed our commitment to catalyzing LNG adoption by automotive & industries, by building India's largest, pan-India network of Green Fuel Hubs.
He also emphasized the unique, crucial role of LNG in helping achieve India's seemingly contradictory ambitions of becoming a $5 trillion economy while lowering its carbon emissions in line with its COP26 commitments.